Thoughts on the CASIO G-Shock 35th Anniversary Watches
Background
Growing up, one of my first recollections of lusting after a watch was for the CASIO calculator watch. When I finally got it, and broke it, I remember getting a G-Shock which I distinctly recalled survived all of my shenanigans. I am sure I am not the only one with similar recollection or appreciation for wearing a watch that was designed to be indestructible and actually delivered. What's perhaps surprising is how even today, the brand manages to charm the most ardent of collectors who all tend to have a G-Shock or two in their collections.
Introduction
So it was with great anticipation that I looked forward to adding the new 35th anniversary models to my own collection. I've had ProTrek as well as Rangeman models in recent years, but until seeing these new models, I never thought I would be looking forward to adding another CASIO (or two) to my collection and some that I could see using in my work rotation. And not just as beaters, but as regular everyday watches. Since the models have yet to be widely available in the US, I ordered mine from Japan, and started with the resin model; and quickly added the full metal to complete the collection. After wearing the watches for just over a month, what are my thoughts and experiences?
Resin
The first one I got was the resin model or reference GMW-B5000-1JF which is listed at $400. It includes a reverse LCD display and a black resin (rubber) integrated strap. The case on the other hand is just like the full metal model. This was announced after the full metal version, but for me, it is the most attractive. It's less showy and I tend to prefer rubber strap for comfort. Additionally, the contrast of of the shinny case with the darker LCD and the black strap work perfectly.
Like the full metal version, the case is a stainless steel reproduction of the original CASIO G-Shock which was released in 1983. While it may seem to be small, compared to newer G-Shock models, it is surprisingly large. The case stands at just over 43 mm with a lug-to-lug of just under 50 mm. However, what makes this watch wearable is the super light weight of just under 100 grams (97g to be precise) and its small profile of just 13 mm.
As mentioned, the stainless steel case is polished, and while shinny, actually works as a tough watch due to the brushed bezel where the classic "PROTECTION" and "G-SHOCK" markers are present. And like all G-Shock models with this case design (CASIO has produced a variety over the years) the only fault is the difficulty in accessing the four cardinal buttons. With the shiny case, they sort of disappear and are only easy to press if you happen to have small fingers or long nails.
Full Metal
The full metal version, reference GMW-B5000-D and listed at $500, which I imagine more people will gravitate toward, has identical dimensions to the resin model but the LCD is normal which makes it a bit easier to read. However, the distinguishing aspect is what I dislike a bit and it is the integrated full metal bracelet. It certainly gives the watch a lot more presence than the resin and also make it heavier at 151 grams.
And that weight can be felt easily in the summer days when I wore it and wanted to adjust the bracelet. But you cannot easily do this unless you carry a bracelet adjusting tool. Perhaps it would be unfair for me to compare the metal bracelet with my Rolex Submariner's bracelet which I also wore recently. However, for me, the Submariner is the reference for best metal bracelet that I know of.
The CASIO, of course comes in at 15x less the price of the Sub... However, the effect of the metal is still the same. And in the case of the G-Shock the shiny finish makes it much more visible and for some reason I feel it more on my wrist than when I wear my Submariner and other metal bracelet watches I own. So bottom line, not a great bracelet but good enough, especially considering the cost.
The other thing about the bracelet worth noting is the "flimsyness" of the links. They are not poorly made per se, they just have some play. There was more links than I needed and after adjusting (removing two links on each side) I was able to fit it tightly as I like. However, unlike other metal bracelets with easy adjustable links or clasp, here you need to use a tool to move the end link to one of the five adjusting wholes that are available at the deployant clasp.
To be fair to CASIO, I like the style of the deployant used. It's easy to use and works brilliantly. Never had an issue closing and opening. However, all was not perfect as I did experience almost losing the watch when one of the lug links gave up and I lost the pin. More on this later.
Features and Companion App
Like all modern CASIO watches, these 35th anniversary models come packed with features and even a companion app. The iPhone/Android app is free from the respective online stores and pairs easily with the watch via bluetooth. The pairing sequence is quite simple and quick. Once paired, a digital representation of the watch is part of the interface whose dial stays in sync with the watch.
Here is a list of the watch's main features, all settable via the app:
1. Alarms and count down timers. Including repeating alarms and one shot;
2. Multiple timezones. You can have a different timezones (in addition to your hometime);
3. Chronograph with split timing features.
Additionally, like many new G-Shock, this one includes CASIO's tough solar technology which allows the watch's battery to be recharged quickly by just exposing the dial to the sun or any light source. The battery lifetime usage is an estimated 10 years and will stay charged close to a year after a full charge as the watch goes into battery save mode when not in use. And with this solar recharging mechanism, unless you don't wear it for a long time and store it in a dark place, you should virtually never have to worry about this watch's battery.
Same goes for setting it. Once paired with a device, it will periodically sync the time and date when in range or once you open the app. And if you don't happen to pair the watch or use the app, the watch also includes CASIO's multi-band 6 technology that will periodically sync time/date with radio signals across the globe for accurate info.
The watch is rated at 200 meters water resistant which means you might be able to take this diving if that was your pleasure. It's clearly capable of withstanding any situations and activities on land or at the pool or on the ocean. And with it's illuminated LCD, which can be automated with a flick of a wrist, this is actually a watch that would do well in dives or the pool. Of course, without any additional features that typical digital dive watches offer.
Naturally, it goes without saying but worth mentioning, that this is a G-Shock watch, and even with it's metal construction, can take a beating. This includes all the protection you'd expect, like ability to survive 2 meters (and more) drop and a solid construction with inner case protections. Of course, the shinny polished case will scratch and eventually show a lot more wear than its plastic bretheren; however, in more than a month wearing mines (especially the resin model) for various strenuous activities, I have yet to inflict any scratches that I easily notice.
Wearability
The overall design and style is very much like all CASIO G-Shock, so something that most have already experienced. The key difference here is how much more stylish and cool this classic design is with a metal case. It's hard to describe but such a small change results in two watches that I have no problem wearing at work or for everyday activities.
Of course, it's not the watch for a wedding nor the board room nor the opera, however, the versatility of this watch meant that I used it to cycle to work; attend various meetings; go for a hike, and also do a photo shoot. I never felt it was out of place or clashed with my activities.
While flexible, I do have to state again that my preference is for the resin model. I do like the full metal, which I wore a lot for this review, however, I would usually find myself gravitating toward the resin. I think the reasons are twofold. First the black rubber and reverse LCD means the resin is less showy while still having the same nostalgic and overall cool look.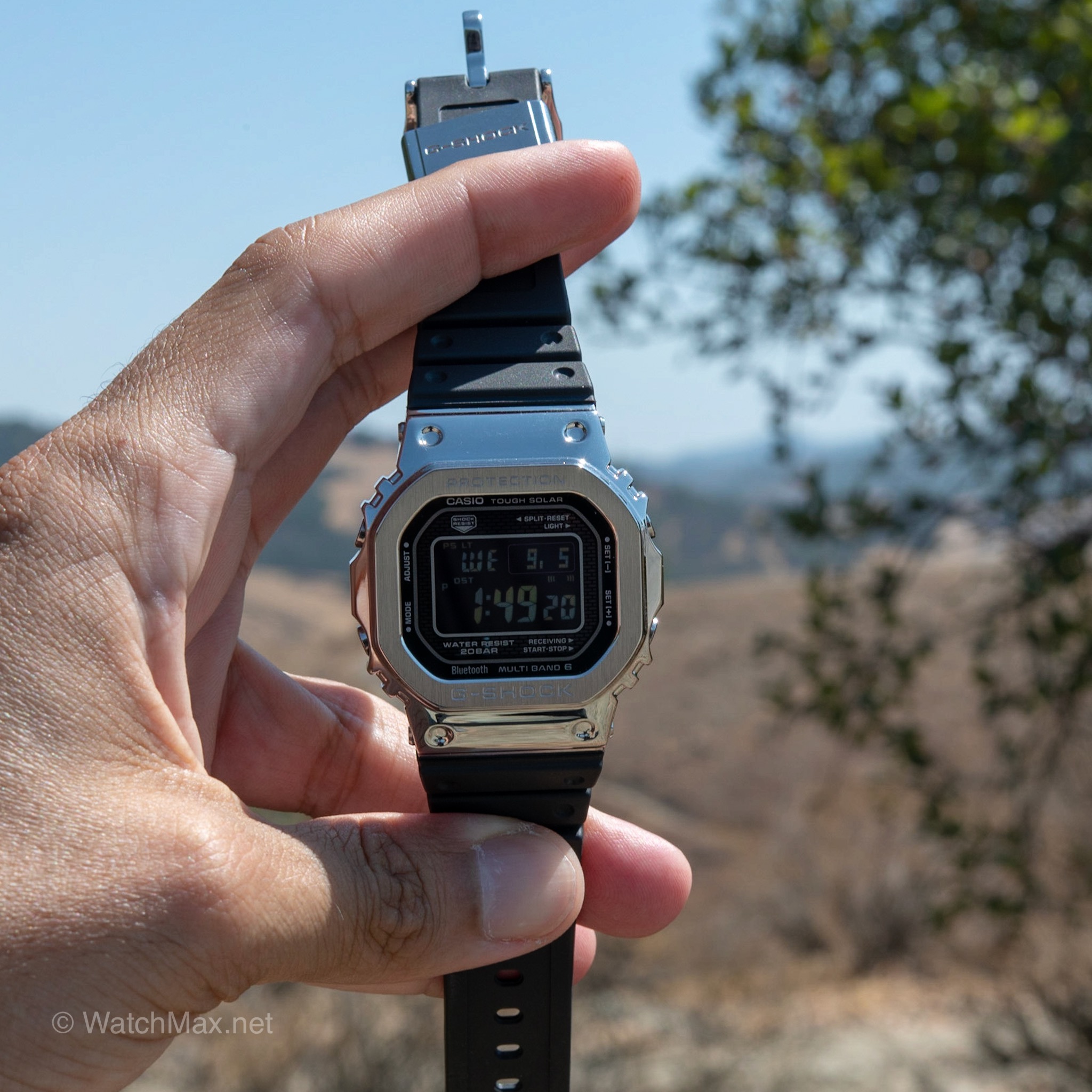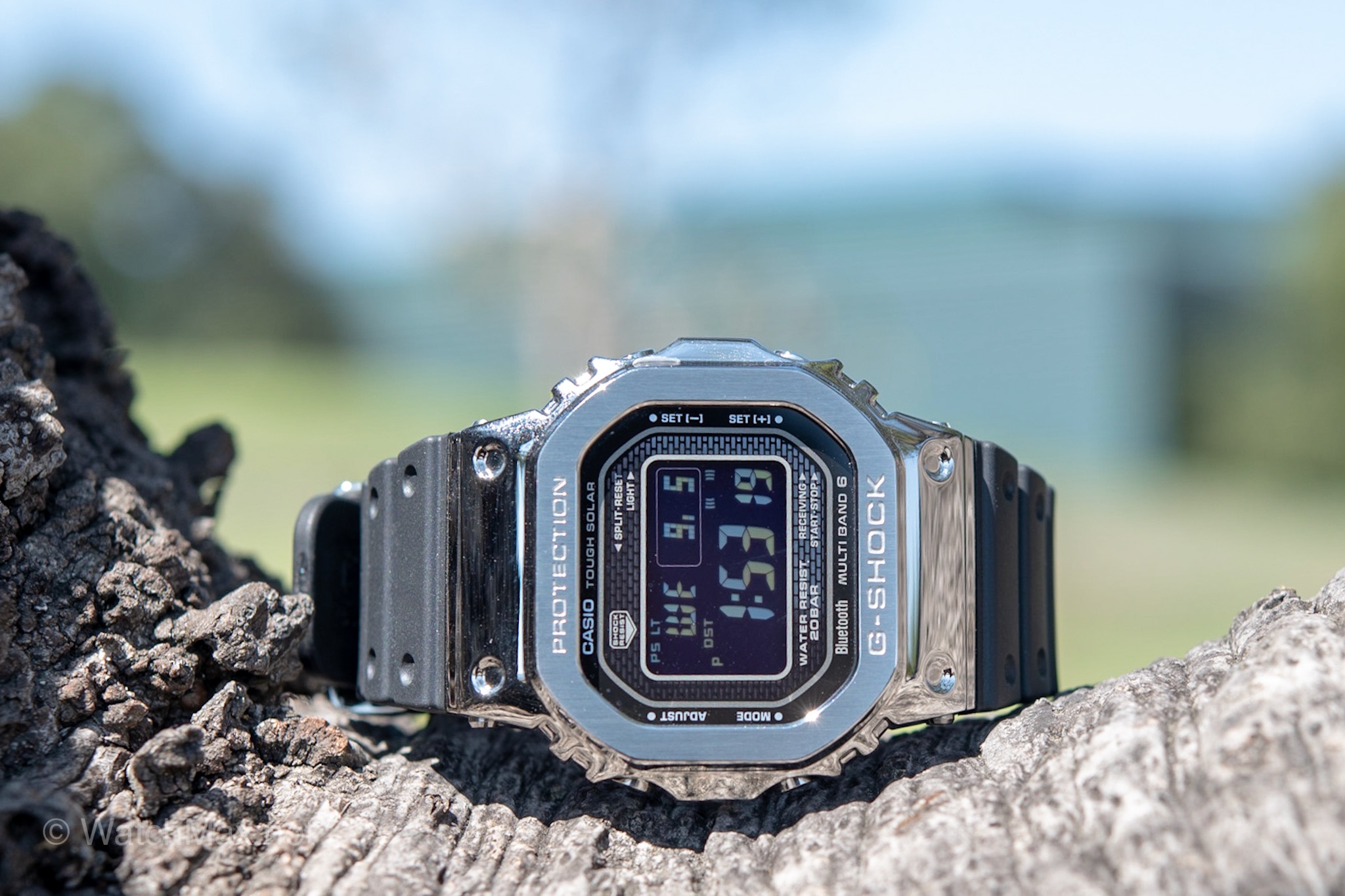 Second, the full metal, while easier to read and even somewhat skinnier is not so comfortable after a long day. This is mainly due to the lack of quick adjustments for the bracelet. But if this is intended to be your primary watch and you don't mind the shine, then the full metal has a lot more presence and is closer to the look of a mechanical watch, if that's your goal.
Quirks
I did discover a series of quirks and annoyances with both models very quickly and during my entire month wearing them pretty much everyday. The first thing as I mentioned is the shinny case. While driving or cycling, when the sun hits the case just right. It's essentially a small mirror and will reflect the sun as such. Not a big deal but worth noting. While I would wear it to cycle to work, I have other watches I can cycle with that would not have this problem and offer lots more features, e.g., Garmin 735 XT.
The second quirk is the bracelet links on the full metal. The design is nice but the execution is flimsy. It will break, sooner or later. On mine it broke within a week. Perhaps it's because I tend to wear my watches tight, but I almost lost it at a coffee house in San Francisco. The pin near the case gave up… I could easily repair it at home by reusing one of the pins from the links I had to remove, however, I fear this would be something that will happen again.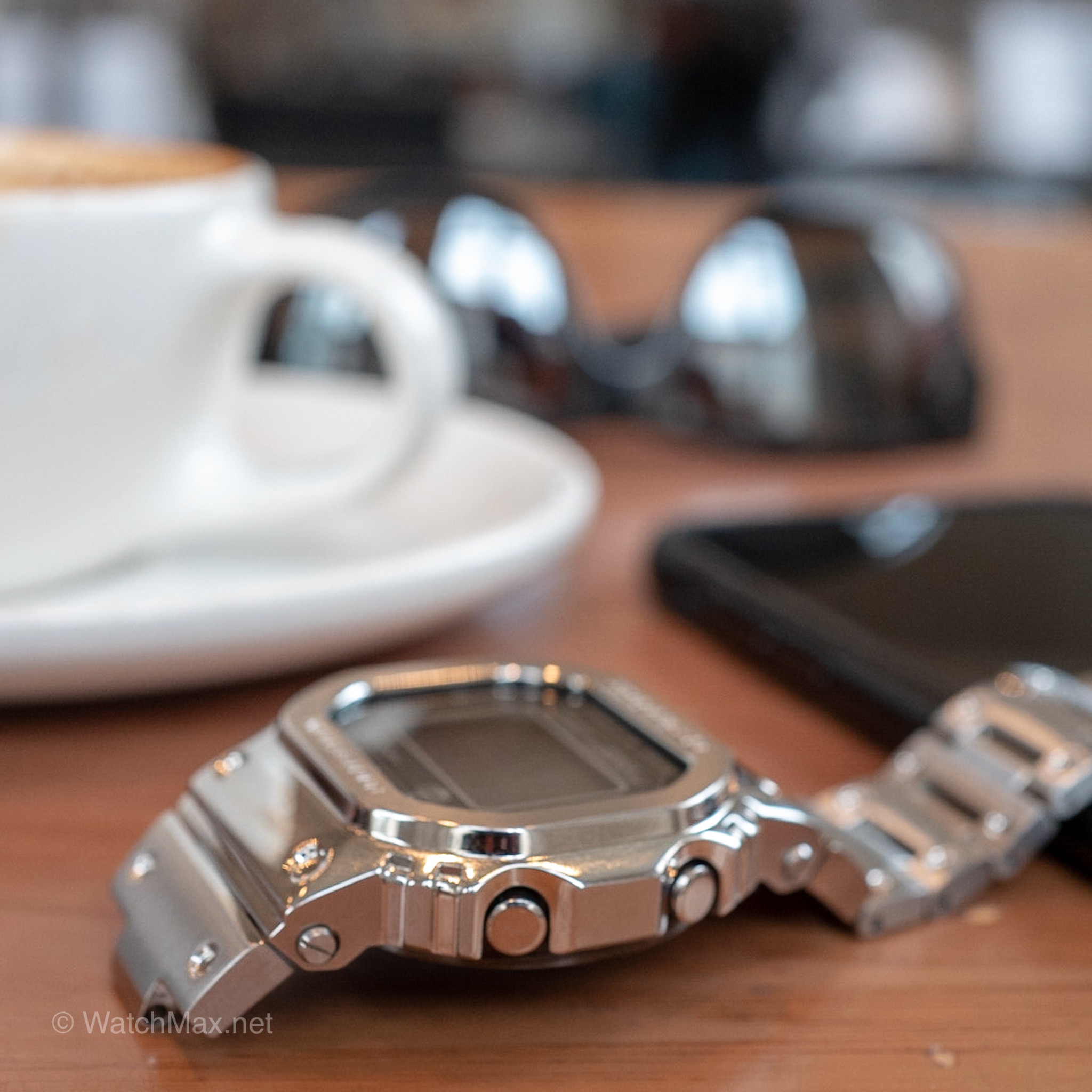 Further, the play on the links means that CASIO opted for comfort and perhaps cheaper links design than what you will get for most mechanical watches—at least the ones I am used to. But hey, this is a watch you are paying about $500 for, so maybe it's worth keeping that in mind if you get the full metal and the same happens to you. As I have the resin model, and like it more, it's the one for sure that will get the most wrist time in the future.
Competition
Again at the incredible price points of $400 (resin) and $500 (full metal) means that these watches have very few competition for what they offer. I could not think of any alternatives, with all same features (or more) at that price. Sure an Apple watch, and other smartwatches, are in the same price range and will even offer all the sync and app companion features, but you won't get even close to the shock and water resistances of the G-Shock.
There are a few tough watches in the quartz segment that will come close to the same as the G-Shock anniversary, for instance the Luminox Navy SEAL and other models or the more expensive Brietling's Colt Quartz. But none of these have much out of the box connected features and are priced at two to five times the price for the G-Shock.
Citizen and Alpina also have a few offerings in the connected watch segments with similar features but again will cost you double what I paid for both of mine. On the mechanical side, nothing comes even close. Sinn's entry level watch, the 556, has good shock and water resistance but costs at least four times more and offers none of the connected features.
Final Thoughts
The CASIO G-Shock is pretty much its own segment and with these anniversary models what they have done is to give more reasons to collectors to love G-Shock watches and use them in more and more activities and situations.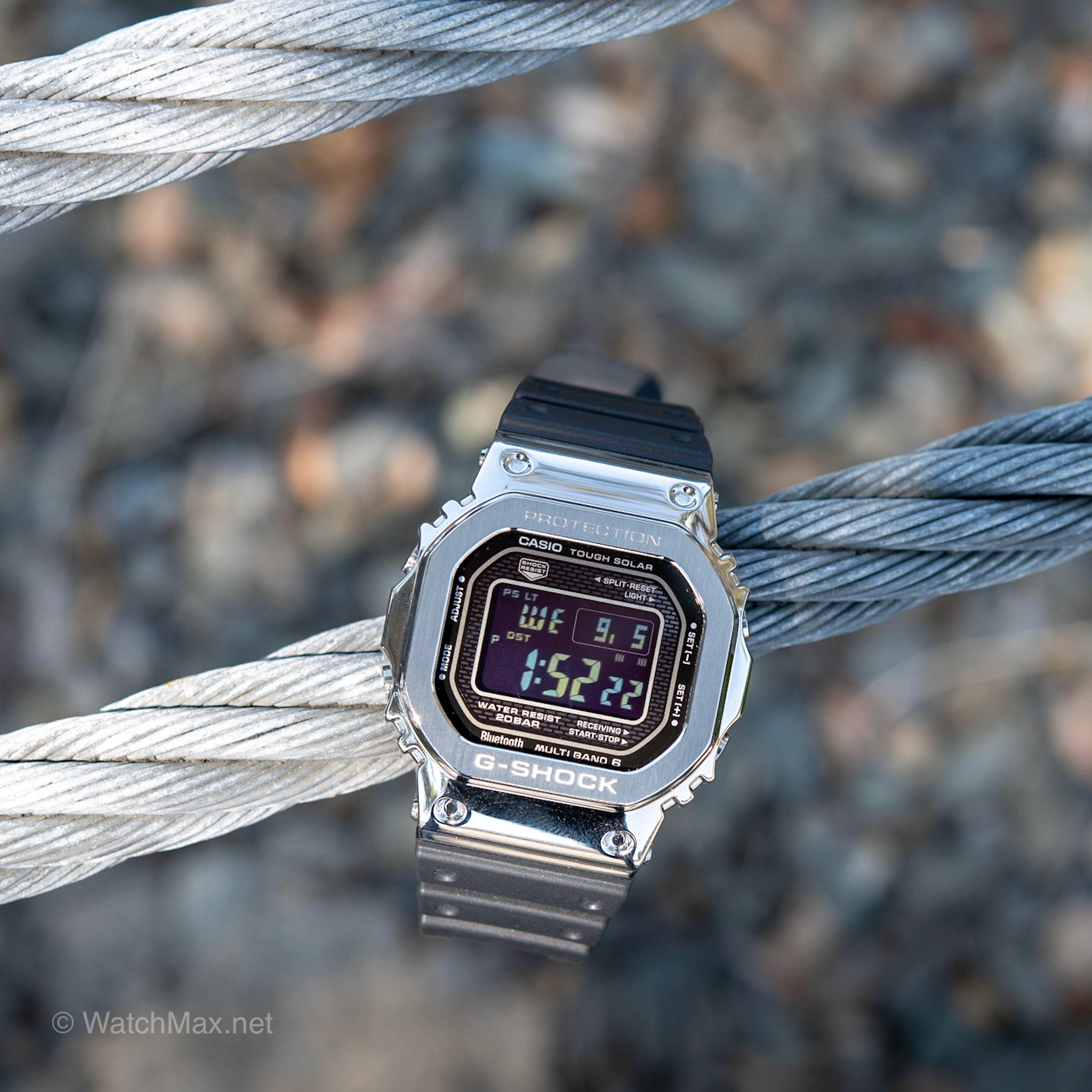 It's no wonder that watch aficionados all over the world, whether season collectors or those starting more recently, have always had one or two G-Shock models in their collections. It was time for me to do the same. They are the perfect watch to wear for home chores. And with these anniversary models you can look good doing so.
And if these two models are not to your liking, CASIO knows a success when it creates one, as there are even more models already available. Like an extremely limited all black DLC for $1,200 (reference GMW-B5000-TFC) as well as a gold-plated model for $600 (reference GMW-B5000-TFG). I am sure even more variations will be introduced using the same basic concept of a metal case yet keeping the core G-Shock design cues, and filled with the latest technology.
The two models I reviewed here are slowly being shipped to authorized dealers all over the world. Some, like Bay Area's Toppers Fine Jewelers are taking pre-orders for most models and filling in the demand as they arrive. And if you cannot wait, like me, find them on eBay from various sellers in Japan and all over the country. Be prepared to pay a bit more than retail. However, the most important warning is to be careful to "buy the buyer" and do your due diligence and review research before bidding.
I am glad CASIO released the new 35th anniversary models this year, for I was in need of filling this G-Shock gap in my own collection. What I did not expect was that I would not only fill the gap but have two new beaters for work and other activities, and that they would be displacing, and stealing wrist time from some of my mechanical watches. gshock.com