During my visit to Geneva for SIHH 2019 I had also planned for a few days to meet with other brands presenting at Geneva Days, e.g., Hublot, Zenith, and TAG Heuer. In addition, I also planned to spend a day visiting the international city as I had never been there in the past.
One of the not-to-miss places to visit during any stay in Geneva is the MB&F M.A.D. Gallery. This is especially the case if you are in Geneva for a watch event or have any interest in watches. The M.A.D. Gallery is everything you would expect from Max Büsser and his interesting, innovative, and crazy watches, but also the crazy cool designs that he shows us on a regular basis.
Because Max's interests spawns more than watches, and even for watches, he regularly introduces us to a variety of innovative ways to tell and display time, the M.A.D. Gallery serves as an extension to the spirit he brought to MB&F. It is also, perhaps a venue to allow a broader view of the talents of the various artists Max interacts with, but don't necessarily end up making a watch with, it's a chance to present the creativity of these artists, pure and simple.
Maximilian Büsser
At just over 50 years of age, Maximilian Büsser is already a legend in the watch industry. He started his career at Jaeger-LeCoultre where quickly ramp up the managing ranks, and then joined the famed jeweler Harry Winston in 1998 as managing director. In a very short time Max was already leading a revolution at the famed jeweler by invigorating their watch department. What was not clear then was that he was setting up for a broader revolution across the industry.
Teaming up with various independent watch makers, Max came up with the concept of not only creating a collaborative watch but also showcasing the watchmakers' contribution by prominently adding their name on the dial or as part of the watch's name itself. The result was 13 different Opus watches from Harry Winston. Many of them are sought after by collectors as they each have a unique way of telling time and have innovative accompanying movements.
MB&F
After his successful stint at Harry Winston, Max decided to take his winning strategy to its natural progression with his next venture. With full creative control, the Max Büsser & Friends (MB&F) brand was born with the unspoken goal of creating dream machines for the wrist.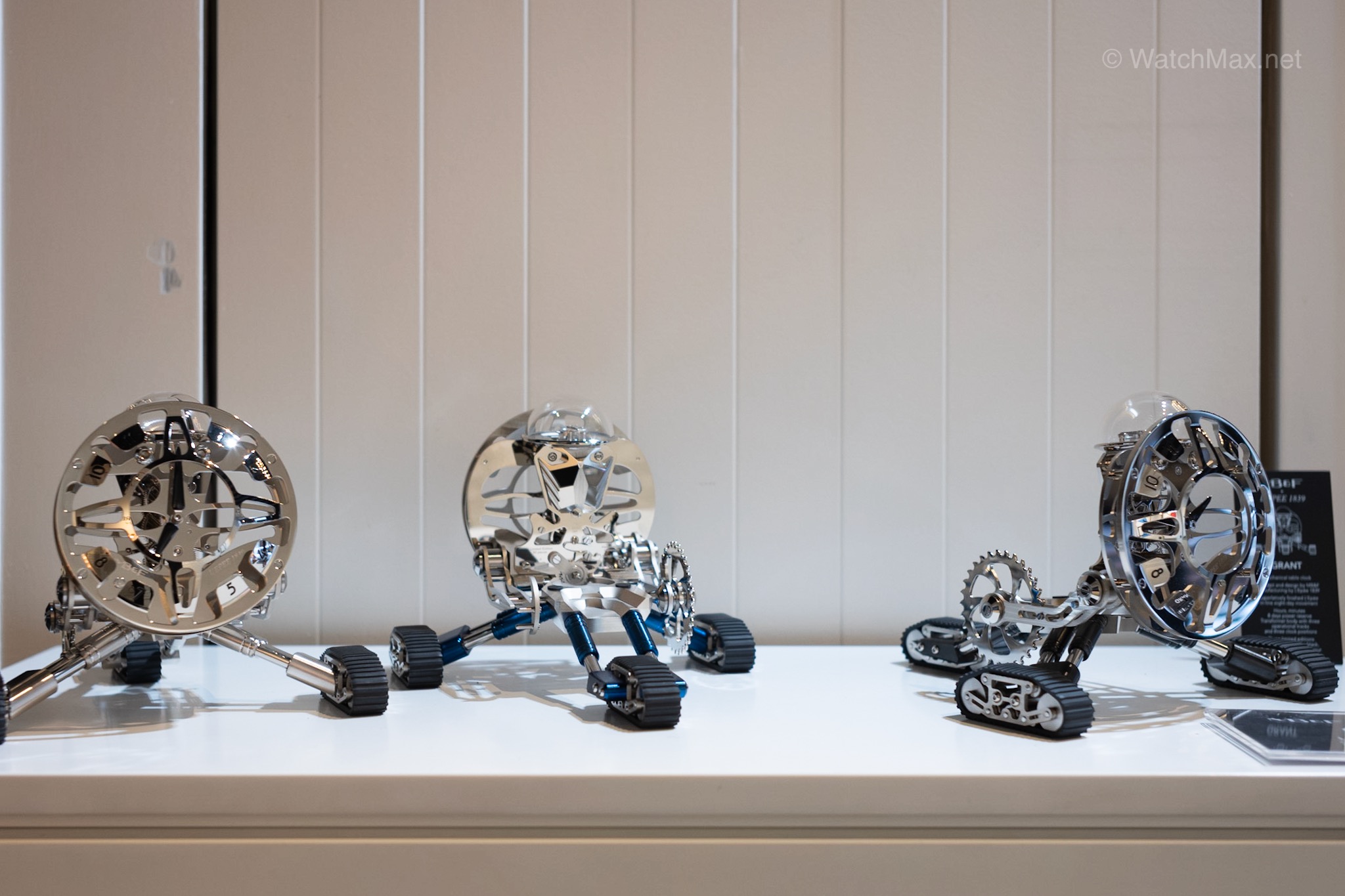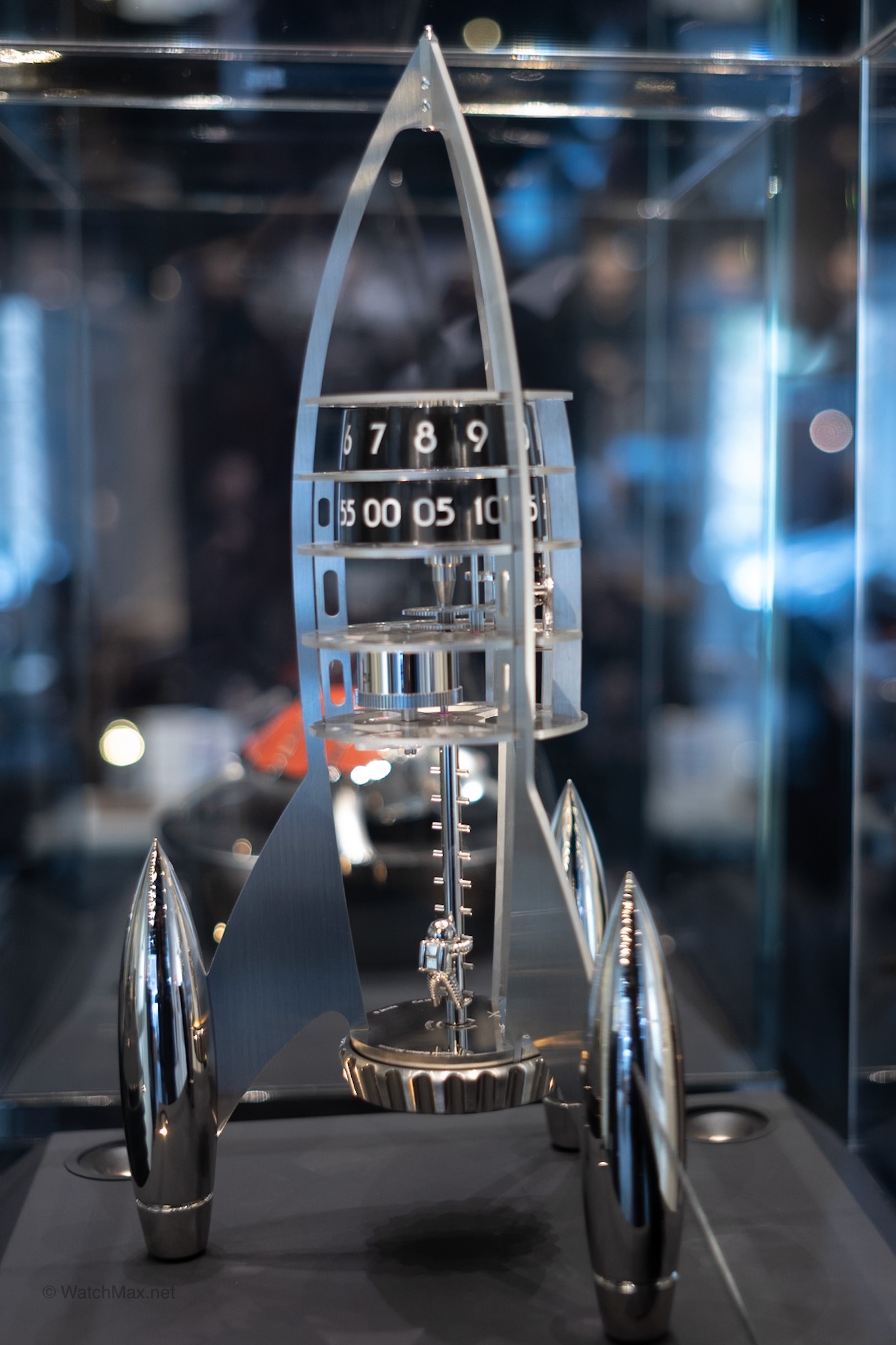 Using his fertile imagination, and his "boy at heart that has not grown up" demeanor, Max continues to collaborate with independent watch making geniuses all over the world to create what are often over the top, but always original mechanical works of art for the wrist. A great example is the Pilot watch resembling a vintage twin turbo engine plane straight from a 30s movies. The HM9 builds on the tradition of the other Horological Machines pilot watches to create an original machine for the wrist that will be guaranteed to be unique whatever or wherever the occasion for which you'd wear it.
The MB&F collection in a nutshell is comprised of three primary lines: horological machines, legacy machines, and his clock collection in collaboration with L'Epée. Each collection serves the purpose of allowing the creativity of this special brand to shine through. The horological model are the one from Max's dreams and childhood, the legacy are Max's interpretation of classic watchmaking, and the clocks allow the brand to produce pure mechanical art. And this last category is perhaps the genesis of the M.A.D. Gallery concept.
Each of the L'Epée collaboration clocks is essentially a themed mechanical sculpture that happens to also include a clock. Designed for the desk or the house, these are not your grandfather's clock nor the disposable wall clock you see at factories or at the gym. These are instead works of art, mechanical statues, that happen to have a clock imbedded therein.
M.A.D. Gallery
Along so many creative journeys, it was not surprising to those observing the successful, risky, and unique path of MB&F that the brand would open small boutiques dedicated to the various clocks and related items that Max and his friends have cooked up over its 10 years of existence. As MB&F grew and continue to gain popularity, it is also not surprising that the brand would have more concepts for time telling machines than it could bring to market as wrist watch or desk clocks.
The M.A.D. gallery, first created in Geneva, and now also in Dubai, Taipei, and Hong Kong are precisely designed to allow smaller up coming artists and collaborators to showcase the crazy clock and non-clock related items that have resulted in the discussions and preliminary discussions. It's a place to showcase creative mechanical art. Upon entering the M.A.D. gallery your senses are attacked with spinning colors, a constant nice ticking of the various machines on display. There are clocks made of seemingly all materials.
Max Büsser has a knack for attracting new talent and it shows. One of the many works of mechanical art hanging from the walls is a poster of the many collaborators of MB&F. A perfect tribute to the spirit of this place. Feels like a museum shop of our collective love affairs with the mechanical watch.
Why Mechanical Art Matters?
I had long wanted to visit any of the M.A.D. galleries. It was one of the few places on my list when planned my trip for SIHH and Geneva Days. I was not disappointed, and upon leaving it also made me think about why we have such fascination with mechanical art. After all there are many types of artistic medium and endeavour, why mechanical art?
I believe the M.A.D. gallery is a great place to find an answer to this question. With it's ammalgation of different mechanical art, it's a place to touch and feel what we, as a species, can do with our hands and the basic materials that nature gives us.
It's not an invented medium like electronics but rather remains lifelike as we are in nature itself. Perhaps its the Frankenstein or the Pinocchio complex in all of us? However, it is also a reminder of our limits yet also a means to help us unleash our limitless creativity. By focusing on mechanical works of art telling time, the resulting items are also useful and a reminder of our own limited time on this journey called life. madgallery.net
Editor's Note: Thanks to Jared Silver of Stephen Silver Fine Jewelry for allowing me to photograph the MB&F pieces at his store in Melo Park, California and many thanks to Max Büsser for always welcoming me to his M.A.D. world.