Introduction
In surprise move, Audemars Piguet (AP) released a complete new family of watches (13 references) just ahead of SIHH. It's the largest release from any one brand, at once, from my time writing about watches. AP orchestrated their launch with some fanfare using social medial (primarily).
The announcement was done with clearly lots of thoughts going into it. While the name is a bit complicated (CODE 11.59), an acronym for Challenge Own Dare Evolve and 11.59 meaning the minute before midnight. The well prepared (perhaps overly done) marketing message shows that AP had been working on this collection for a long time (over 7 years according to some). Nevertheless, the overall results are probably not fully what they had expected.
The backlash from social media was the talk of the SIHH show the first day. Like for many public comments on the social web, there is a kind of groupthink, or mob mentality, that sometimes take hold. This phenomena can amplify (positive or negative) any new product or service launch on social media. This is especially true with a product that takes a bold approach, that is innovative, and that is different. Exactly the case for the CODE 11.59 collection.
But as we know, it can be hard to judge any new watch, especially one that is trying to break new design barriers or technical grounds, without having had a chance to see it in the metal and strap it on your wrist, even for a few minutes. So after spending three meetings with AP, including two at SIHH and one at Watches & Wonders in Miami Beach, plus a fair amount of time trying some models on my wrist, and photographing most of the CODE 11.59 references, what are they like in person? What are my thoughts
Background
AP is one of the oldest watch manufactures in the world. Founded almost 150 years ago in 1875. It is the last remaining manufacture in the hands of the founding families and it's headquarters is still in the same location at the Vallée de Joux as it was in the 19th century. With this long history comes a tradition of innovations in watchmaking and in particular creating complicated and more recently bold, out of beating path models. Truly in line with their motto: to break the rules you have to master them.
Some examples are the groundbreaking references from 1910s (the first octagon watch), 1930s (rectangular watch with jumping hour) and of 1960s (juxtaposed geometrical watches) and more recently the Royal Oak in 1972, an octagonal stainless steel watch which created a new genre of watches: the luxury sports watch. With all of this history and tradition comes some drawback. For the past 40 years, AP has had an Achille's Heel. Real or perceived, over the recent years the Royal Oak model along with its bolder cousin, the Royal Oak Offshore, has become AP's primary growth and revenue line. It's also the model that collectors and watch lovers gravitate towards the most.
This situation while common in the industry is somewhat unique to a high-horology brand like AP. Other brands like Patek Philippe, Vacheron Constantin, and A. Lange & Söhne have many successful models and no one is so identified with the brand as the Royal Oak is to AP. The current CEO and family directors must have been mulling over how to fix this issue. The CODE 11.59 appears to be the answer they came up with. Let's take a closer look at the extensive collection that they presented at SIHH and Watches & Wonders.
The entry model for the CODE 11.59, which sets the style for the overall collection, is the automatic. Like many of its siblings in the collection, it includes a series of complex design choices that are found across the range. Let's explore each feature.
Dial
First is the dial, it's done in lacquer in three colors: white, blue, and black. While a bit disappointing in person as to the potential high expectations, the lacquer dial is rich and deep in color. So the black is deep black, almost disappearing and the white and blue almost appearing like ceramic. This is due to the multiple layers of lacquer applied, up to 12 according to AP.
An interesting note is that AP had to design a new process to apply the indices and its logo to the resulting dials. While not apparent to the non-initiated, a lacquer dial is almost like a mirror polish making the application of indexes and logos a difficult proposition. On the CODE 11.59 the raised 3D AP logo is done in 2 karat gold that is "grown" on the dial with a galvanic process. It makes for a distinctive look.
Crystal
The second complex design choice for the CODE 11.59 is the double doomed sapphire crystal. On quick glance most people will not notice it to be so different than every other watch with a large bezel-less sapphire crystal. But on close inspection you can see that the crystal has a odd aspherical shape that seems to be thicker on the sides while thinner in the middle.
Discussing with Michael Friedman, Director of Complications at AP, during Watches & Wonders in Miami Beach, the shape is a bit analogous to how lens designers for high-end cameras use aspherical shaped glass elements to avoid light dispersions and aberrations in the corners. For a watch, this translates in a better view of the complete dial at different and odd angles.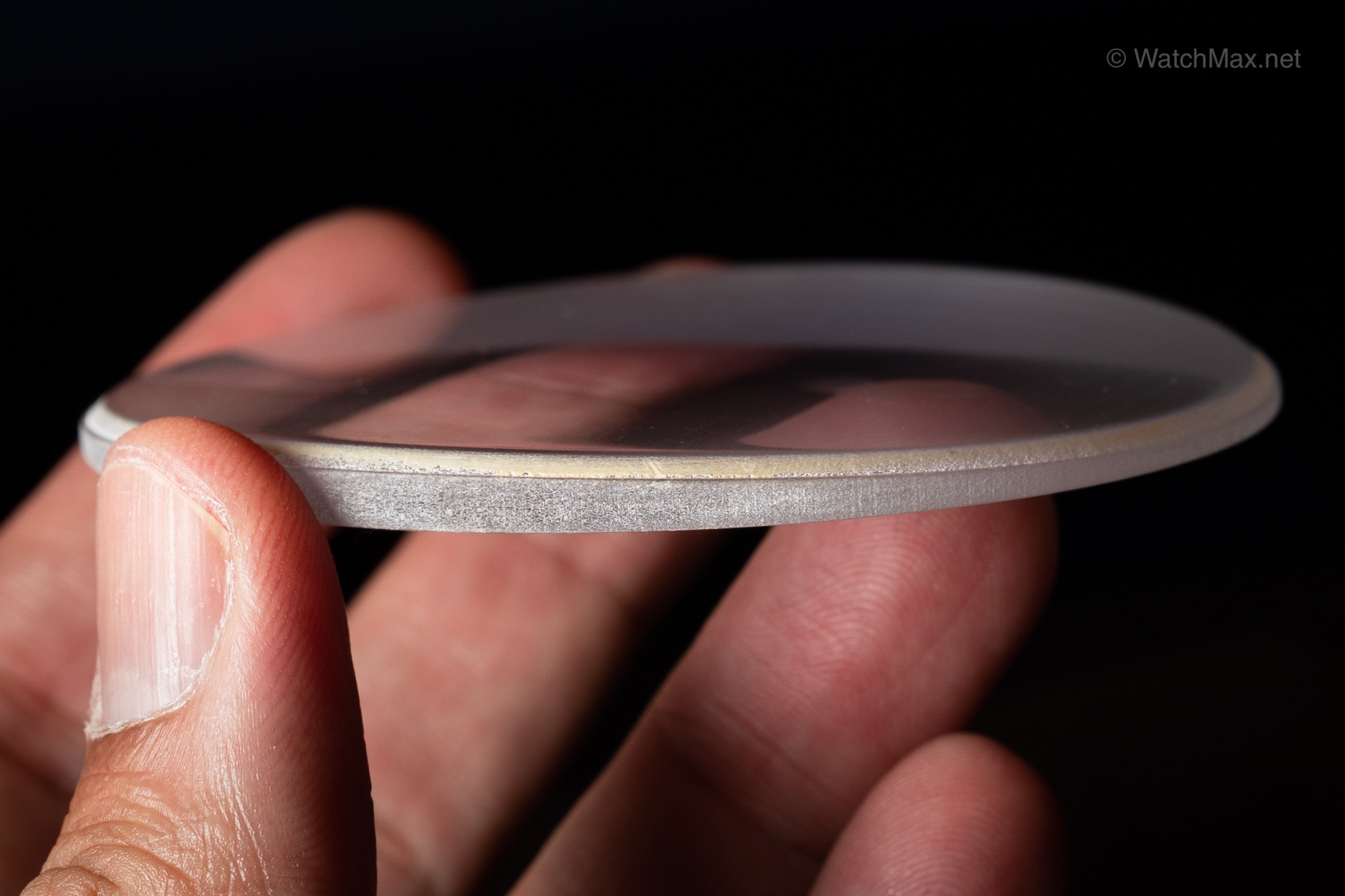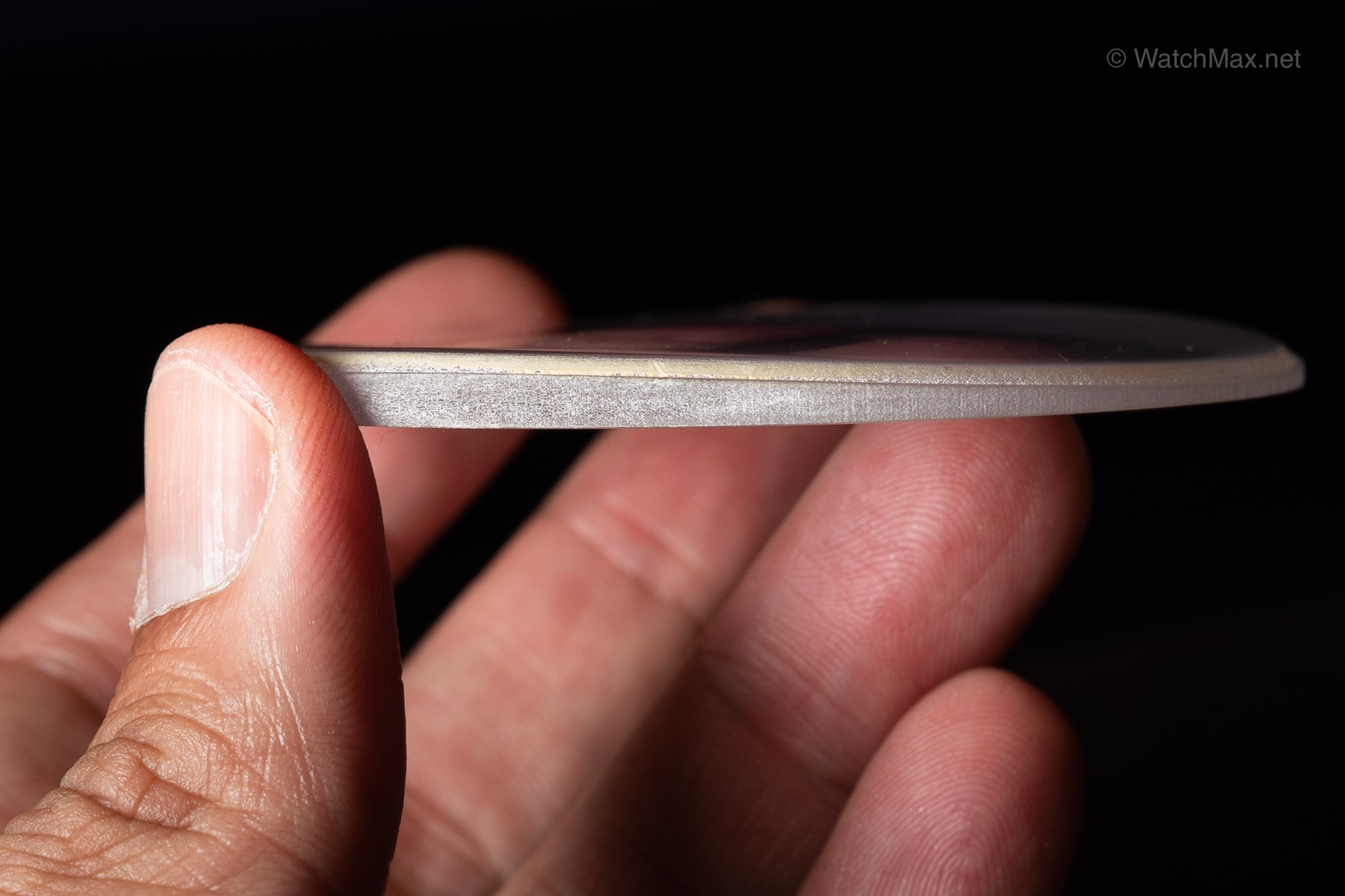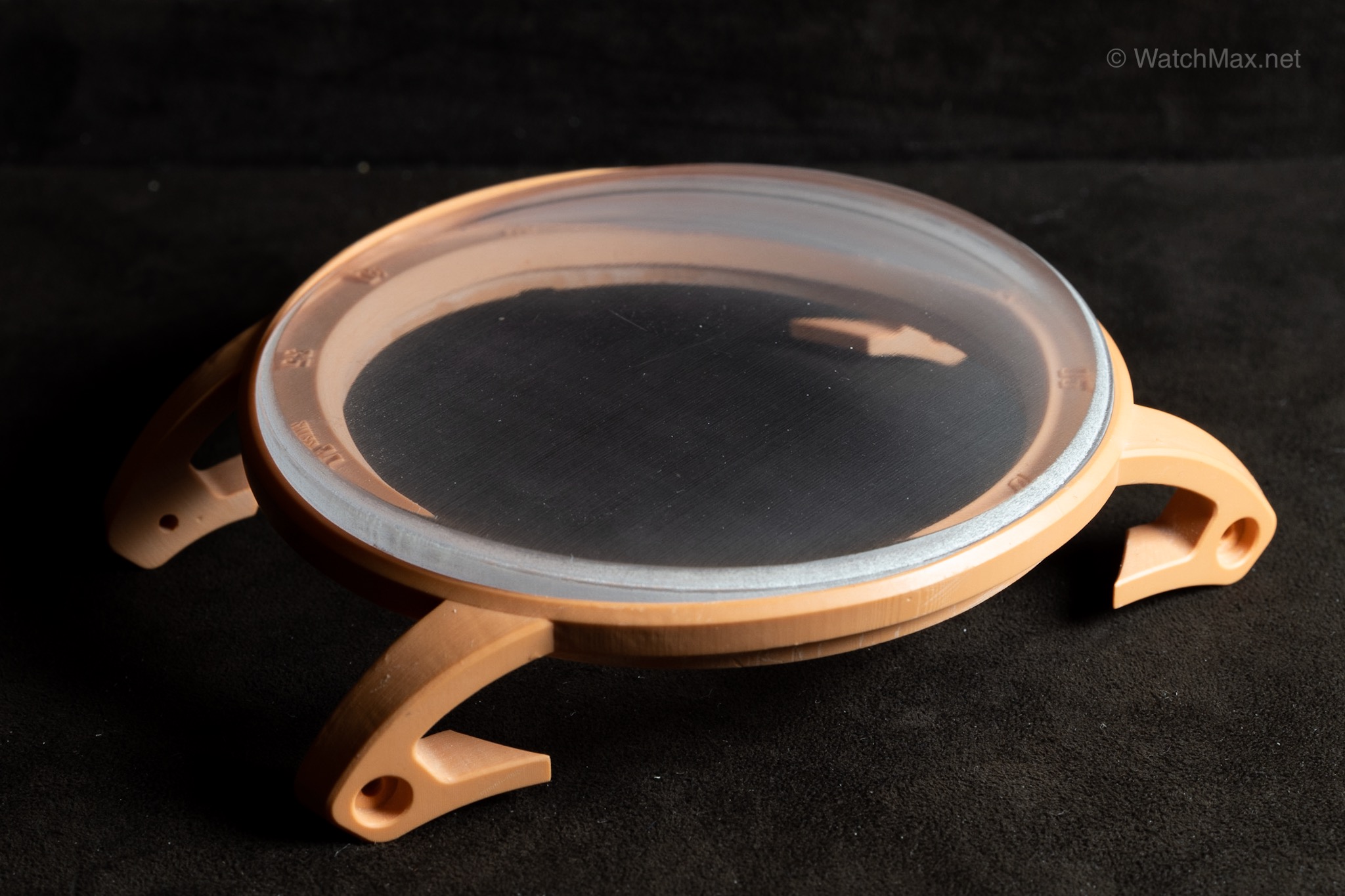 So looking at the CODE 11.59 at different angles the owner should have an easier time to tell the time. This is a complicated process for not necessarily a huge problem, but you have to appreciate AP's efforts here. Even if most buyers of the watch will likely have little need for this innovation. The results, however, is a dial that is large and highly visible and shaped like few other watches.
Case
The last interesting common design choice for the CODE 11.59 family of watches is the complex case construction. Done in a skeleton style, the lugs for the watch are actually attached at the top of the case but rest on the bottom part. The actual case is round, but sandwiches an octagonal middle section as a quiet ode to the brand's famous Royal Oak.
Like with almost all AP watches, the case finishing is something to experience to understand. The level of finishing is on par with most decorated movements. All parts are brushed or polished to perfection. All angles are beveled adding to the beautiful warm colors of the gold and to the inert view of the white gold version.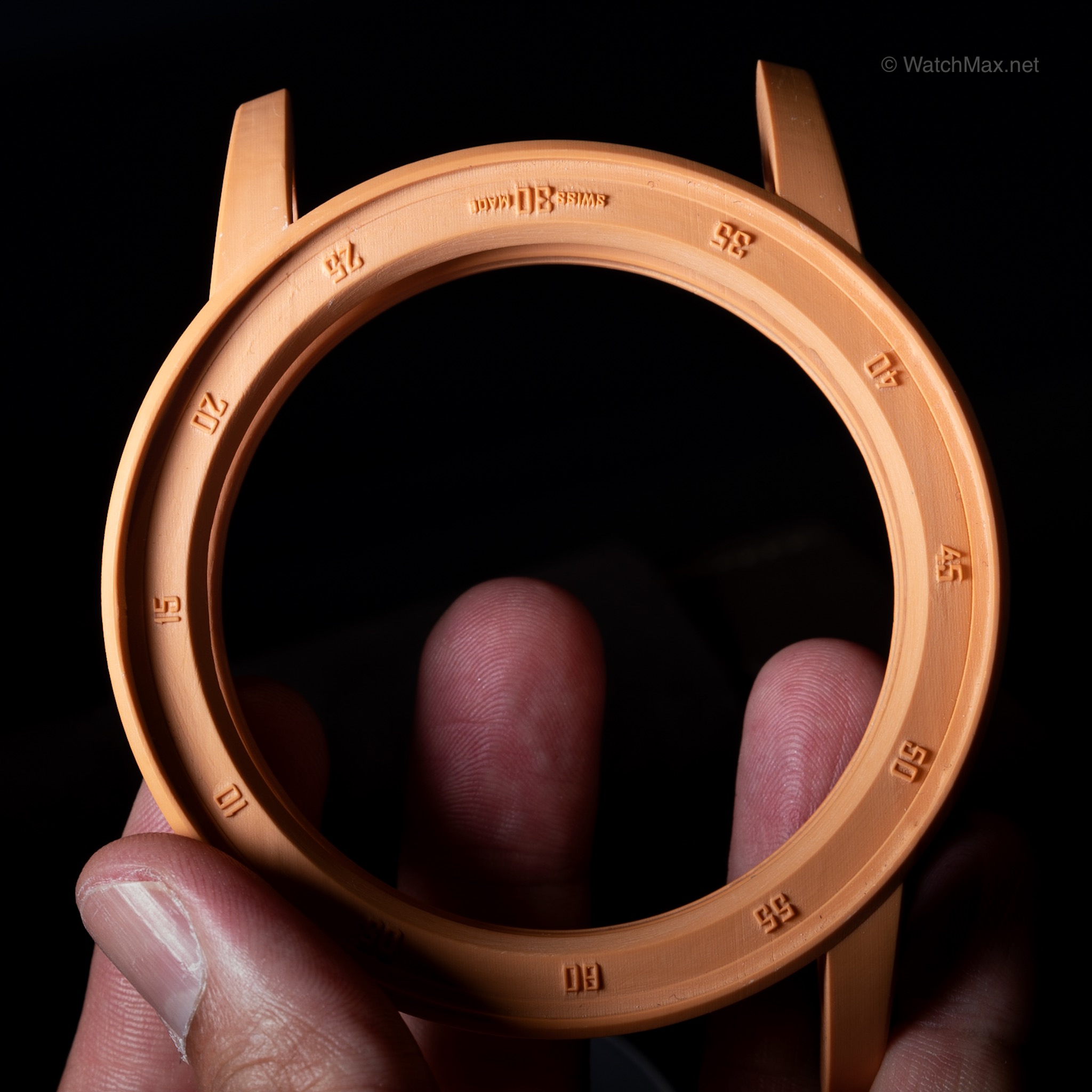 One of AP's goal with these complex design choices for CODE 11.59 was to create a time-only watch that could not be copied. And for the initialed watchnerd I would have to agree that they have achieved this goal since from all angles, once you have noticed or are told of the complexity, you can appreciate the results and would easily notice a fake version.
Miscellaneous
While my preference would be for dark colored dial, the black and blue in these models are of a very deep coloration which makes them hard to photograph and convey in pictures. After seeing all of the models, my preference is for the white one. On wrist they all feel really good and even at 41 mm I can see why AP thinks this watch will be attractive to both men and women. Both models come in at around $25,000.
My primary quirk is with the date being at 4:30p. Like I have heard from many watch makers, either you make a big date (like Lange or others) or don't add one. More and more I see watches with small dates or oddly placed date, and I agree with this sentiment. I personally would have loved to see one with date at 6 o'clock or better with no-date. However, these are the models we have and even if the placement is not optimal, the fact that the date wheel matches the dial color is a good thing.
The second model in the collection introduces AP's first integrated chronograph movement, calibre 4401. Why does it matter? Well in many ways: it's not a big deal, and, it is a big deal. It's not a big deal in the sense that AP has had many chronograph watches in its collections from their super complicated watches that include a chronograph to the recent AP Royal Oak diver chronograph.
It is a big deal because picky collectors have been asking for an integrated chronograph movement as it puts AP on par with other celebrated manufactures that also offer the integrated movement. For the mere mortals amongst us this means a movement that is fully in-house, includes a chronograph, and perhaps is thinner while offering better power reserve than a module-based chronograph. But in this case the power reserve is what is typically expected at 70 hours.
From a design perspective the chronograph models expand on the simple time only by adding a tri-compax layout to the blue and black lacquer dial. The sub-dials are done in the same gold color (rose or white) and are quite legible as the contrast is high. The subdials, like the logo, the indices, and the 12 hour marker, are applied using the same galvanized process described above.
While overall these chronograph models are good to have in the collection, for me the white gold model lacks a bit of contrast. I say this especially because these watches are marketed as being super legible with complex case and dial constructions. The resulting watch I saw might be better if I compared with a similar chronograph next to it but they are not enough to make a lasting impression in my view. Starting at $39,500, these are the least favorite in the collection for me.
Perhaps my favorite model is the perpetual CODE 11.59 with aventurine blue dial. The overall aesthetic and color works brilliantly, not only from the blue dial with star gazed aventurine glass but also due to the layout for the four sub-dials showing the months, day of the week, and day. The photographed moonphase at 6 o'clock is itself on a thin aventurine plate that blends well with the rest of the dial as well as the week indicator around the dial shown with a thin white hand.
AP is a true master at the perpetual calendar watches and this shows in spades. Their in-house manufacture calibre 5134 movement seems to be meant for the 41 mm case as the subdial indicators are perfectly positioned and fill the dial. With a rose gold and white gold version, I will predict that these will be the best selling CODE 11.59 models. They are just what you would expect. And for a new design and model, they just hit all the right notes. Of course these are not cheap, staring at $69,500.
Two tourbillon models are being introduced. First, the self-winding model in both blue and black Grand Feu enamel dial. These include enameled markings for the logo and indices at 12, 9, and 3 o'clock and the flying tourbillon case at 6 o'clock. Using calibre 2950 the watches are perfect complement to the other CODE 11.59 and for me the enameled dials work better than the complex lacquered dial as they subtler with the lack of relief from the applied logo, resulting in a dial that is flatter, simpler, and easier to appreciate. Of course as a tourbillon watch, these come with matching price tag $129,000.
The other tourbillon model is the open worked showcasing the exceptional savior fair of the manufacture. Perhaps the specialty of AP that few others even come close to. The open worked includes calibre 2948 movement exquisitely decorated with hand finished anglage, beveling, and black polished finishing techniques that only a true haute horlogerie manufacture can produce. This is the epitome of watchmaking finishing and it shows. At $175,000 this model stands as the most collectible CODE 11.59 if money is no object.
The final model is a minute repeater. Using the same highly acclaimed and loud supersonnerie calibre 2953 movement that AP introduced in 2016, this Grand Feu smoked blue enamel dial watch appears simple on surface but in reality is a grande complication. Flip the side switch at 8 o'clock and hear it chime as loud as your phone.
This is due to the movement but also to the close case back which helps reverberate the sound. AP did not end there but also added some innovation to the movement which now does a better job when chiming the time when that does not include minutes (say noon) by having a clearer transition between the chimes. Starting price is in the $300,000.
Common Criticism
There are five main criticisms that I've heard about the new CODE 11.59 collection. Some in my view are justified and some are not. Let's tackle each at a time and see what in my view are just and some are simply "group think" from an overly eager Internet social media mob mentality.
1. CODE 11.59 automatic and chronograph resemble fashion watches.
The critiques use Armani and Michael Kors watches to make their point. And while I can understand that a watch styling is not to one's liking, I think such a criticism is unfair for two reasons. First many fashion watches design copy mainstream designs. AP is a brand with over 100 years of history creating and innovating on all things watches. If anyone is copying it's the fashion brands copying. I very much doubt that the AP designers even paid attention to any fashion watch or brand as they created the CODE 11.59 models.
2. Simple dial but complicated execution: 8 to 12 layers or lacquers and double domed crystal.
As discussed above the dials of the CODE 11.59 models are extremely complex in their execution, yet appear quite simple. What was AP trying to achieve? And have they confused customers more than creating something pleasing? Not sure. Time will tell. Two things I can say from seeing these and trying them on in person. The double crystal works. It makes the dial visible at various angles. Second the lacquered dial is really hard to photograph well so many of the photos don't do it justice. In person they are sublime.
3. Why release so many models at once? And no steel models?
This is perhaps the criticism I agree with the most. I fail to understand the rationale in releasing an entire family of 13 watches at once. And ramping up production at 2000 watches for the first year. This is a huge risk. I think in the age of social media, the social web, it would have been better and more prudent to release a few models and gauge the reaction of customers.
I understand that this is double edge sword since being prudent is not a solution to trying to create a new family of watches, but being agile means giving enough space for course corrections. Perhaps AP could have released the automatic and some of the higher end pieces and later in the year the chronograph? This would have allowed them to gauge the reactions and adjust parts of the design as needed?
4. CODE 11.59 is not a Royal Oak.
This is an easy criticism and one that is unfair to AP. True the brand has depended too much on one model. But that's exactly one of their purposes with the CODE 11.59, to break free of the Royal Oak entanglement. It's not clear that these models will achieve that goal fully but in time I can see AP going back to being a brand, like Patek Philippe, of multiple successful and desirable watch families.
5. Small date at 4:30 is in poor taste.
There is almost no excuse for a big watch brand to release a time and date watch with the date at 4:30. It's lazy and a design that many dislike. For older watches this is forgivable since the designs and movements are older and like any trend, there was a time that maybe any date on a watch was appreciated but today that is no longer the case. Customers are looking for more.
Those who don't complain about it are simply not really into watches. At 4:30 the small date appearance almost never meshes well symmetrically with the rest of the dial. For the basic automatic watch it looks jarring, especially since the lacquer dial is really smooth and sparse.
Final Thoughts
What are my final thoughts about CODE 11.59 watches? Well, I overall like them, but not more than many Royal Oak models nor the classic models from AP like the Jules Audemars. Does this mean in my eyes they are a failure? Not clear. I think there is enough there to be successful over time and certainly the high-end models are superb.
The question will be which market segment is AP targeting and what is their primary goal? At an entry point of around $25,000 for the basic model, they are in a tough segment with lots of established competition, including many Royal Oak models. Had AP priced the entry model at $12,000 to $15,000 we could be having a very different conversation.
AP's goal was not to create a Royal Oak or Royal Oak Offshore replacement and these don't play in that lane. CODE 11.59 was created to add a new hip and fun new family to their portfolio and in that goal they have certainly achieved a lot of it. The problem of course is that the designs are simple yet complicated. And that's a major faux pas when you are targeting the non-initiated. Not enough to grab their visual attention, and too much details to keep them focused.
Will these be a hit? Even in time? That is, will they sell out and keep their value in secondary market. Not clear. I would bet not if AP keeps production high. On the other hand if production is low, even these models should sell well. As an AP aficionado I would buy one if I could afford the tourbillon or perpetual model as I believe they are gorgeous... though the high-end models are clearly out of my price range.
AP will learn from this release and do better next time. Creating a hit new watch design is hard and difficult to predict. I would suggest that companies that approach things in more agile fashion would do better overall. Could AP have released less and gotten feedback and course correct? Yes, but that that's likely not their modus operandi. And changing culture is harder than any one release launch.
Will the CODE 11.59 models like the initial Royal Oak become popular in future? Hard to say. I'd guess that it depends on what the next version is. If the basic automatic model is updated and in steel at a lower price point and with some small changes to the dial, the overall family might become a hit.
Every watch brand has their "DateJust" model, and CODE 11.59 I feel, could be just that for AP. Not in its current form but that could easily be changed. However, I also have to say that I appreciate the brand's courage for trying something new. And that in itself make me admire AP even more than I did before. audemarspiguet.com