The Tudor brand of watches is interesting. Not only because they are the watches from the "little sister" brand to the mighty Rolex, but because they have a design language onto themselves that many like and many don't. While I don't own a Tudor watch and not many of their models sing to my sensibilities and aesthetic, I always like to see what novelties they produce every year.
At the COUTUREtime show in Las Vegas, I had this exact opportunity. It's not clear I left with a lust for any of their new watches, but what Tudor showed me was streamlined, strong, well priced, and overall desirable. Let's take a closer look.
Black Bay Bronze
Tudor returns with a follow-up to its first bronze watch that now uses a slate-grey dial and includes the no-date MT5601 manufacture movement with 70 hours of power reserve. Similar to the 2016 release, this model uses an aluminum / copper bronze alloy that is brushed throughout and will allow the watch to patina in a uniform fashion.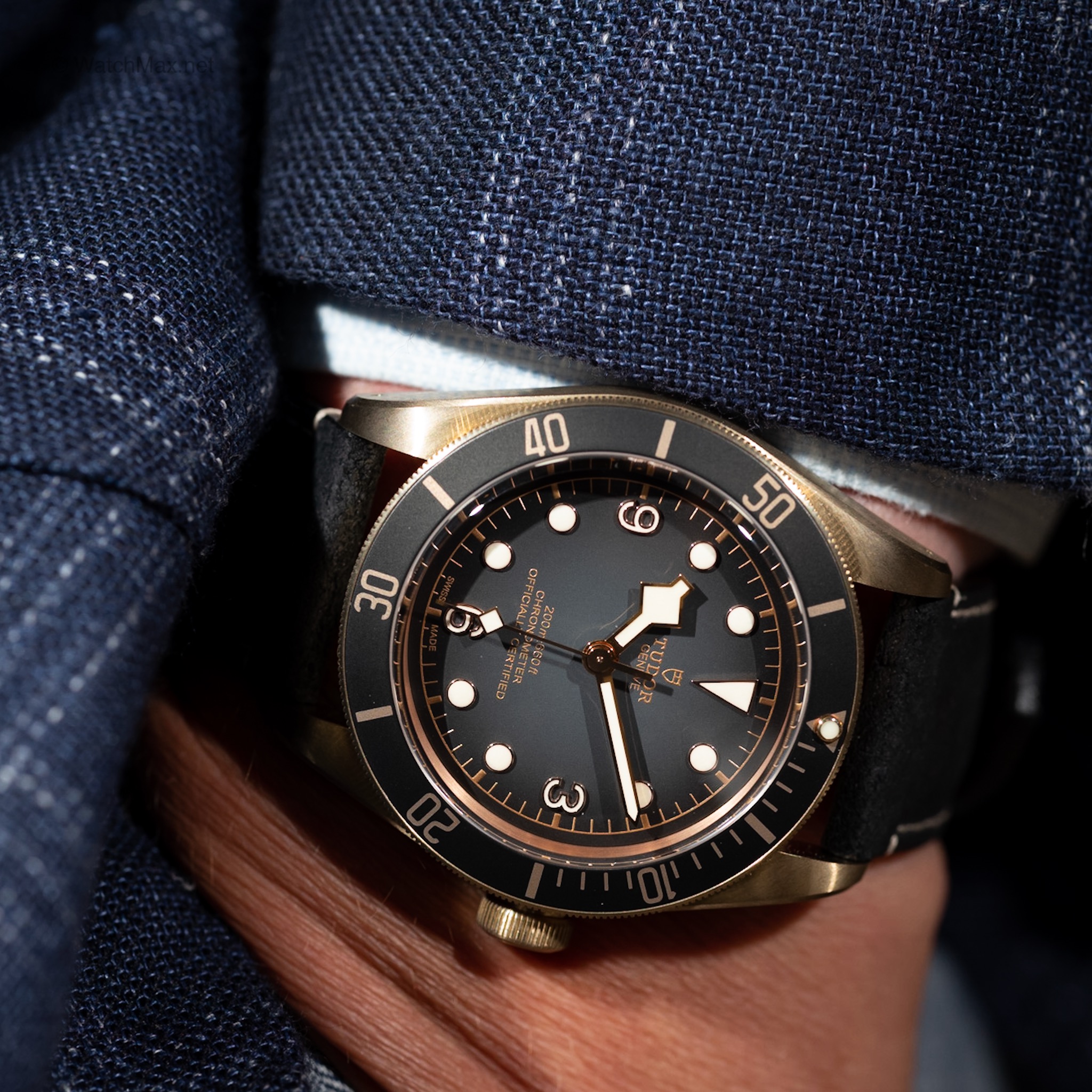 At 43 mm this is the largest of the Black Bay models and the color combination works brilliantly. It's easily my favorite of all the novelties. Coming with a vintage-inspired NATO strap that has roots in 60's when Tudor was creating watches for the French military, the strap blends well with the coloring as you can see. Optional is an aged slate leather strap. The price of the Black Bay bronze is very approachable at $4,050.
Black Bay S&G
In what constitute perhaps Tudor's version of the Rolex Oyster entry level models, are the simple Black Bay steel and gold. This time including models at 36 mm and 32 mm for those with smaller wrists or wanting that classic look of small vintage watches. There is also a 41 mm model for the modern tastes.
All three size variations come with steel and yellow gold five link bracelet that reminds of the famous Rolex Jubilee bracelet. This gives the watch a certain dressy look that works well. This is especially the case for the 36 mm version with champagne dial. Of course, the Tudor snowflake hands and dial design remain to differentiate it from its more famous brethren.
At $4,150, $4,050, and $3,950 these no-date dressy Tudor watches use an ETA 2824 with about 40 hours power reserve and due to the gold used for the case and bracelet are great value if you compared to similarly spec Rolex watches or any other brands. However, for me these were the least exciting models from the novelties. They certainly make sense and have an audience but failed to stir any emotion in this collector.
Black Bay S&G Chrongraph
Continuing the steel and gold look is the Black Bay S&G Chronograph. A well executed bi-compax 60 minutes chronograph model with screw in pushers that uses the manufacture calibre MT5813 that includes 70 hours of power reserve and a date function. The overall look is great as the gold and black dial match perfectly the bezel and the gold big crown and chronograph pushers.
The exemplar I saw came on a bund strap which actually makes the watch look at bit bolder and larger. I would recommend looking at that option, but perhaps as an addition since getting this on the gold and steel bracelet will set you off $6,800 which I am sure is cheaper than getting it on the leather bund strap and then purchasing the bracelet afterwards.
Black Bay SP01
The unexpected and somewhat "controversial" model is the SP01 or special prototype 01, which comes from a defunct special program that Tudor had with the US Navy in the 60's. The program resulted in a series of prototype that never saw production. However, as many brands tend to do, Tudor kept its archive and this SP01 is a reborn version of the first prototype.
There are two aspects of this watch which are new for Tudor; first the placement of the crown at 4:30p. Not an uncommon placement for dive watches, as you can find the same in many divers's such as the popular Seiko SKX models, this placement certainly is a unique look for Tudor.
The second anomaly (if you want to call it this) is the odd (but functional) cover on the lug. When you press the top part, it unhinges and allow the bezel to be rotated. This could be seen as a gimmick today since the resulting mechanism (used now to secure the rotating bezel) has been done in far more functional manners today.
Its operation is easily done with the free hand of the wearer by pushing and easily rotating the bezel. However, for me the concerning part was what would happened if it is not locked back and the sharp edged of the cover got stuck on my jacket or worst scraps unaware friends or family. I think this could become a hazard; but I maybe overly paranoid here.
Coming at $3,950 is uses a 42 mm steel case with 200 meters water resistance and uses the MT5612 in-house caliber that includes 70 hours of power reserve. This is a good, if quirky, watch for Tudor aficionados wanting a special model to complete their collection. It's not limited but not clear if will be produced in great quantities.
As mentioned before, in my three years viewing Tudor's novelties, I never leave feeling but with the view that this is a brand that produces high-quality products at a fair, reasonable price. Everything they showed me this year in Vegas made sense. Even the SP01, a revived unknown relic, as it fits into the design language that the brand has so protected and made famous.
With some minor styling cues from parent brand Rolex, Tudor watches have exult quality and craftsmanship; even while some design elements might take some getting used to: the ubiquitous snowflake hands. Once you know and appreciate that Tudor style, it's hard to not recognize it from far.
With this year's release, Tudor took a page again from Rolex by releasing small improvements on prior designs and adding just enough pizzas with with SP01 to keep its adoring fans wanting more and guessing what could be released next year.
And while I am a fan of the brand, I am still not a buyer. Perhaps this is because my first good watch was a Rolex and I have had (and still have) a special place for Rolex watches in my collection. Though, that Black Bay Bronze is certainly appealing and memorable.
That said, would I recommend a new watch enthusiast to dive into Tudor? Or would I gift a Tudor to a family member for a special occasion? A resoundingly YES to both questions as I have done in the past. tudorwatch.com